Brussels, the capital of Belgium, is also the administrative centre of the European Union.
There are lots of places to visit in Brussels if you browse Trip Advisor. Here, in my blog, I show the places I have visited with my children.
Mini Europe
In my opinion, it is the must place to visit in Brussels and no trip is incomplete without a day trip to Mini Europe. Yes, it takes half of your day if you go through each mini-city, look at it carefully and take pictures. It's an open museum so dress accordingly as per the weather.
The park covers almost all the famous places and monuments of Europe and it was a delight that I had visited most of the places.
My favourite was the Dutch canal system with windmills and the house of Shakespeare. If you are visiting the park with children, there are a few activities inside at the end of the tour. You can purchase the ticket in advance and if you buy the combined ticket with Atomium, it would cost you less.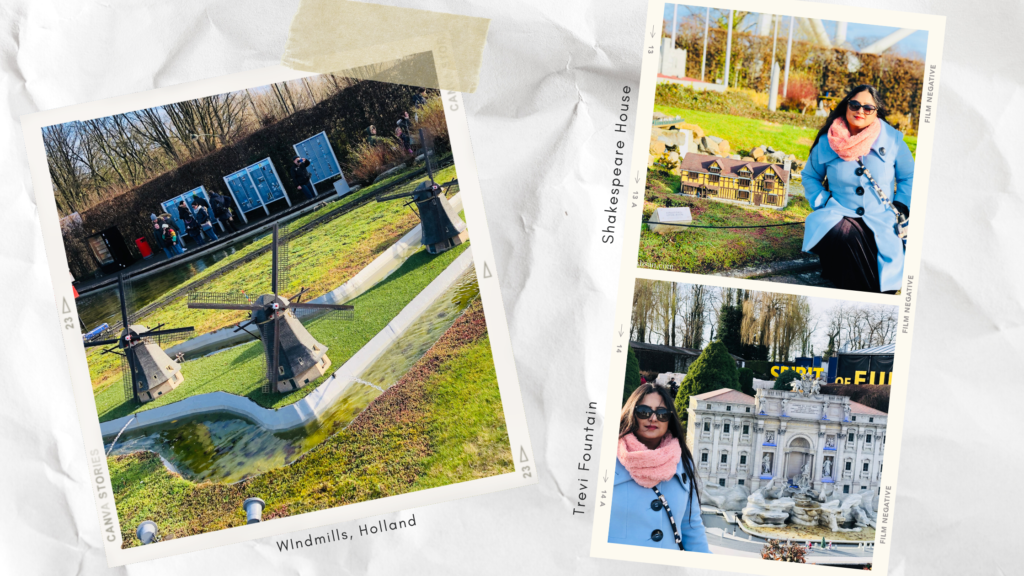 Want to see the theft of the Mona Lisa in Paris? Mini Europe displays a cute miniature and the best part is: it keeps the children busy.
If you want the full experience of Mini Europe then do check out my YouTube video.
Atomium is a landmark originally constructed for the 1958 Brussels World's Fair. Here as well, there are a few activities for children but overall, it's a great experience to learn about the fair and how the Atomium was built. The spheres (as seen in the picture) are connected via escalators and elevators and on the top, you can get the best view of Brussels from one of the spheres.
Grand Place
The Grand Place or the Grokte Market is the central square of Brussels. There is something happening every day so depending on the season, your visit will be different. Since I visited it during the Holiday Season, I was fortunate enough to attend the light show along with the Christmas tree light up. It's beautiful around the Christmas season with sparkling light décor. The Christmas Market is just a block away to indulge yourself in local food and drinks, and what better way to ward off cold than hot chocolate (yes, Belgian chocolate). There are lots of places to eat but one thing that you are NOT supposed to miss while visiting Belgium is trying Belgian Waffles. Yes, no trip is complete without a dose of this sweet and divine decadence. You can have any flavour of ice cream on the waffles, along with a variety of fruits and syrups. I'd highly recommend a scoop of vanilla ice cream topped with Belgian chocolate syrup and lots of strawberries. It's classic but you can never go wrong with it. And it doesn't matter if it's cold outside 🙂
Another interesting place to visit around Grand Palace is The Royal Saint-Hubert Galleries. It's a passageway mall with a narrow street-like courtyard that reminds you of Uffizi Gallery in Florence or Galleria Vittorio Emanuele II in Milan. The interesting part is that most of the stores are chocolate shops where you can buy heavenly truffles for yourself and gifts to take home for family and friends (and yes, they are expensive but worth it).
Outside the mall, you will also find Haagen-Daaz café, which can't be missed if you're in the main town. This does not need any introduction.
Train World
This is something the entire family can enjoy. Train World is an official museum of the National Railway of Belgium. Here, you will find the history of trains and mini models of how the trains evolved with time. Some of the models are too realistic.
Along with models, they have original cars of both old and modern trains where you can climb aboard with your family and take pictures. My children had a great time there. One interesting part of the museum was the gallery of clocks that plays a major role at train stations. You will find yourself walking through a maze of hundreds of clocks, all ticking and making your head spin. It's a very unusual experience, something that we undergo in our dreams and it's a strange thing to live inside your dream. Perhaps, I may not be so eloquent in my experience but this is something you need to visit yourself. Do post a comment about how you feel about that!
I stayed in Belgium for five days but was not limited to visiting this city. I had a day trip to Brugges, Antwerp and Ghent (you will find it in other blogs), so that left me to enjoy only two days in this magnificent city. There are many places you can visit in Brussels such as Manneken Pis, Royal Museums of Fine Arts of Belgium, Halle Gate and many other museums. The list is endless but it all narrows down to your choice and budget.
The only thing I'd recommend experiencing while being in Brussels is to enjoy waffles and lots and lots of Belgian chocolate.
Disclaimer: Locations mentioned in the blog are visited personally by me and I hereby share my personal experience on this blog. We are a family of four so many places (visited) are kids friendly. I do not get paid for any links to places, restaurants, museums or cafes. All travel pictures/videos are mine.